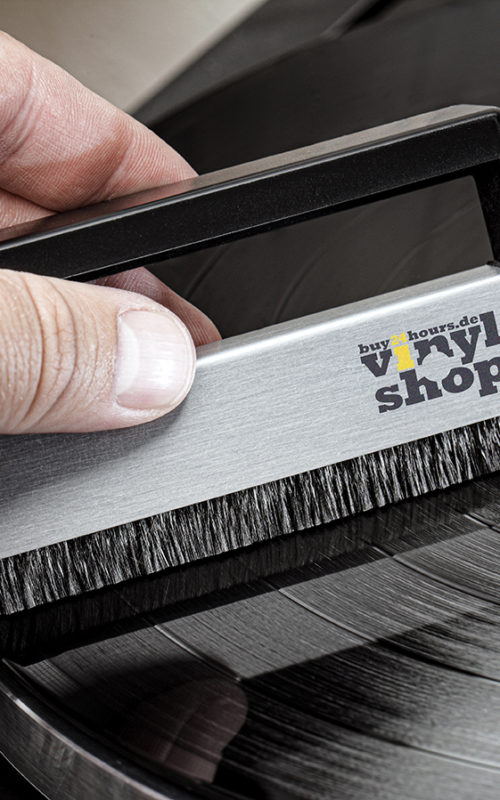 Tipps for the care and storage of vinyl records

Storage of vinyl records:
Vinyl disc records should always be kept vertically standing. If records are stored horizontically over a longer period of time they can develop waves. The humidity of the air should not be too high in order to prevent the formation of mold on the covers. The room temperature should stay between 10 and 25 degrees Celsius. Avoid the exposure to strong light sources to prevent the colors on the record covers from fading.
To remove dust from vinyl records best use an antistatic cloth or a carbon fiber brush. If the record is very dirty we recommend the use of a professional washing machine for vinyl records (Okki Nokki, Nitty Gritty, etc.). Do not under any circumstances use solvent-containing products as these can damage your vinyl record.
How to clean vinyl records without expensive washing machines:
You will need:
A microfiber cloth (the ones resembling terry cloths with wider mesh work best), destilled water and a straight, firm surface with a lint-free linnen sheet.
As an alternative you can use the following mixture to clean your records: 90 % distilled water, 10 % isopropanol and a splash of surfactant.
Instruction:
Fold the microfiber cloth a few times so that you get a surface area as wide as the groove area. Spray the microfiber cloth with the destilled water and clean the disk along the grooves in a circular motion. Remove the collected dust by shaking the microfiber cloth and continue. You might need to repeat the procedure.
Microfiber cloths make use of the capillary principle and can even get rid of persistent dirt (nicotine, cleaning fluid deposits etc.). They can also reach and clean the smallest spaces. After cleaning your record it will be like new and the sound will be brilliant (even records played in a wet condition, provided they are intact).
Storage of vinyl records:
The Expedit shelf from IKEA has proven itself a cheap and good solution for storing vinyl records. A 5×5 Expedit has the capacitiy to store up to 2500 vinyl records (a 4×4 Expedit can fit up to 1600). Unfortunately the Expedit isn't produced any more. The presently available shelf Kallax differs a little bit from the Expedit so that the single pieces cannot be combined as easily. It still suffices as a shelf solutions for vinyl records though.